Free services
The following services and opportunities are provided on the GLOAP.NET website for seafarers absolutely free of charge.
Publishing a seafarer's resume on site
To be noticed and offered a decent job, your resume must be available for viewing on the Internet. You can easily create and place a sailor's resume on our website. To do this, just register on the website as a seafarer, and then use the link on your profile page to fill out a seafarer's resume.
After that, hundreds and even thousands of crewing agencies and shipowners personally will be able to find you and offer you a job.
The more information you provide about yourself, the more likely you will be to get a well-paid job. That is why we recommend that you take the time to write a sailor's resume. Especially since you only do it once. After that, the created resume can be easily downloaded in PDF form and submitted at the interview, even if you did not receive the vacancy through the GLOAP website.
Sailor's resume widget for your website
Once you fill sailor's resume on the GLOAP.NET website, you no longer need to create it on your website. Simply use our widget to display a ready-made resume on your website.
You can find the widget code in the Sailor's Resume Widget section of your profile:
Place this widget code on your site so that site visitors can see your data and be able to offer you a job:
Generate a PDF version of a seafarer's resume and documents
Employers often require a seafarer's resume in some format that can be downloaded from the Internet. Using the GLOAP website, creating a seafarer resume in PDF format is not difficult.
Once you have filled out a seafarer resume on the GLOAP website, you just need to open your resume page, then use the Download resume link :
If, when filling out your resume, you also uploaded scans of any documents to the site, the Download docs button will be available next to the resume download button.
Using this button, you can download all documents you uploaded as a single PDF file. Such concern for the employer can significantly increase your chances of getting a job.
An example of the contents of a sailor's PDF resume can be seen in this screenshot: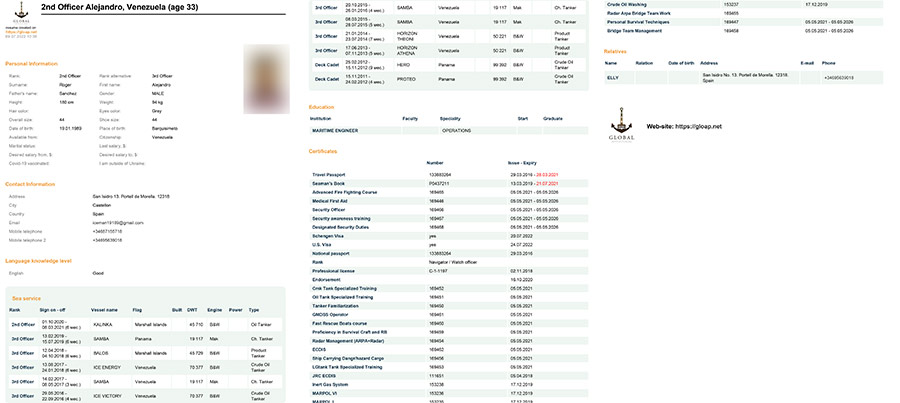 The ability to respond to current vacancies for seafarers
Crewers and shipowners can post their vacancies on the GLOAP.NET website. All current vacancies are available in the website section Vacancies for seafarers.
Any seafarer who is registered on the site and has a completed seafarer resume can apply to any of published vacancies:
After the response, the employer will be able to see your resume as a seafarer. And in case of interest, contact you either through the GLOAP.NET website, or directly using the contact details you provided.
Also, the crewing companies themselves can offer vacancies to seafarers they like. The more completely your application is filled out, the more chances you have to receive such an offer.
In this case, you already decide whether to accept the vacancy or refuse.
Easy access to any content on site
The site has a favorites system that allows you not to lose any information you are interested in:
Cards of crewing, training centers, ships, resumes of any seafarers, as well as vacancies and news for seafarers. All this can be added to favorites. At the same time, all this information will be sorted into separate tabs, which will make it easy to find what you need now in the future.
To add an element to your favorites, just click on the heart icon located next to the name of this element :
You can go to the Favorites section by clicking on the icon located to the right of the tabs of the main search forms for vacancies and seafarers' resumes:

News for seafarers
We, as well as the organizers themselves, regularly publish news interesting for seafarers on the site. This can be both information about various exhibitions, seminars, master classes, as well as general information useful to seafarers.
To keep abreast of the latest news, just go to the site News for seafarers.
Get free points for the purchase of paid services
Don't forget about the unique opportunity to receive funds to your account balance for performing various actions on the GLOAP.NET website. The funds received in this way can be spent on any paid services on the site.
For example, funds are credited to the user's balance for filling out a sailor's questionnaire. And even for the very registration on the site.
Therefore, you can try any of the paid services on the site even without spending your own money.
Paid services
For an additional fee also you can get the following services.